From the horse and buggy industry came forged parts for automobiles, opening Canton Drop Forge up to several other industries that we still serve today.
By 1909, CDF grew exponentially, adding four more forging hammers and started work on a much larger facility known as Plant A. We forged aircraft parts for WWI and in 1942 operated the new Department of Defense facility known as Plant B to help the World War II efforts along with our own plant. CDF played an important role in both World Wars and Vietnam, creating forged parts for land and air combat, fueling the aerospace industry. CDF purchased the Plant B from the DOD after the second World War in 1951 and is still part of the current facility today.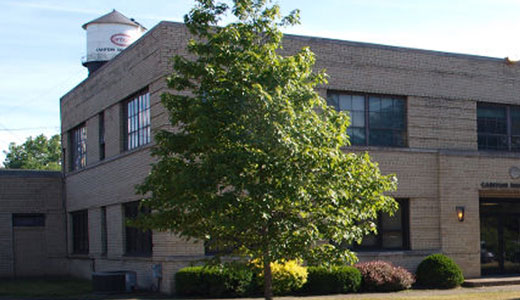 Canton Drop Forge Building
During the 1950's, Canton Drop Forge expanded, growing the aerospace industry with power generation turbine blades and jet engine discs. These new forging products led to expansion into the oil and gas industries.
By the late 1980's The Canton Drop Forge and Manufacturing Company changed their name and became Canton Drop Forge. Plant A was shut down in the mid 1980's allowing from Plant B to be the sole operating facility. Today, CDF is home to some of the industry's largest drop forging hammers in our 241,000 square foot manufacturing facility. We operate 13 forging hammers and can produce forged parts up to 3500 lbs. We service six major markets including Aerospace, Oilfield industry, Power Generation, Mechanical Power Transmission, Off-Highway, and Railways, leading the way in closed die forging innovation.