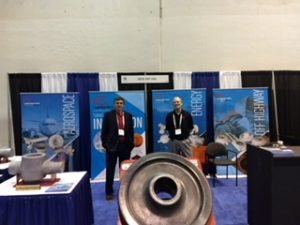 For over two decades, OTC – the Offshore Technology Conference – is where the world's energy professionals meet to exchange ideas and opinions to advance scientific and technical knowledge for offshore resources and environmental matters. This year, Canton Drop Forge was at the forefront as a presenter and engaging many participants at their booth.
OTC proved to be the biggest event to date as industry experts from all over the world gathered in Houston, TX. OTC is the largest global event for the oil and gas sector, and features approximately 2,000 exhibitors and attendees from across the globe. Sponsored by 13 industry organizations and societies, this was a special year as the conference celebrated its 50th anniversary.
One of the aspects of the OTC Show that we were most excited about was the access it gave attendees to leading-edge technical information, the offshore oil and gas industry's largest equipment exhibition and show, as well as valuable new professional contacts and ideas. At Canton Drop Forge, we were proud to present because we believe that our components can go up against any in the industry, and we appreciated the feedback we received during the event. We displayed high-pressure components and forging technology meant for oilfield and drilling use along with our custom forging capabilities and certified components for oilfield and gas drilling operations, including lateral, cross, pinion and fluid-end forgings.
Big thanks to everyone we met and spoke with during the event and we are already looking forward to next year!
REQUEST A QUOTE, TALK TO AN EXPERT