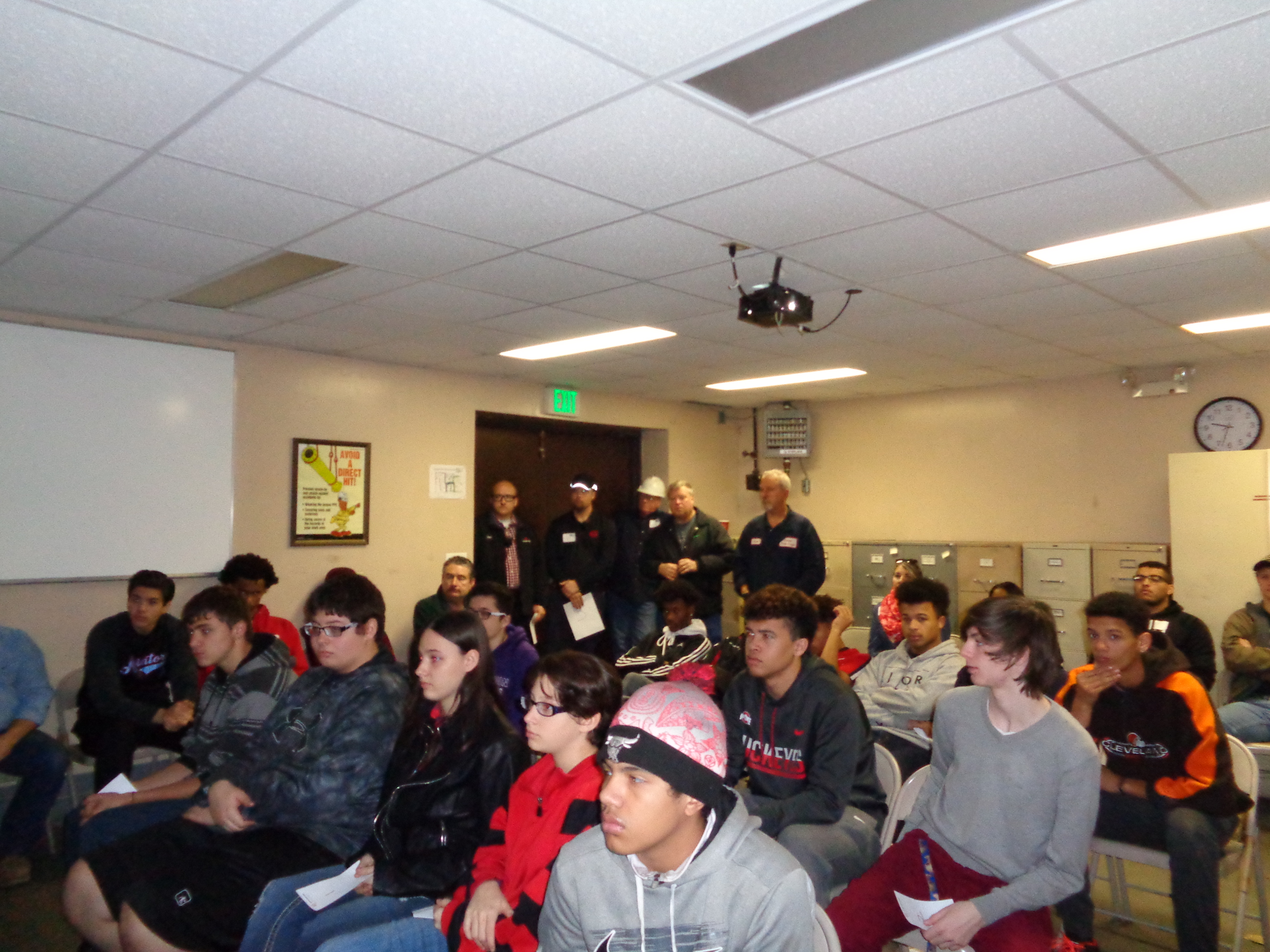 Canton Drop Forge welcomed approximately 30 students from Alliance High School to their facility at 4575 Southway St. SW in west Canton. The visit was organized through a partnership between Canton Drop Forge and the United Way of Greater Stark County, who brought the students to the facility as part of their Get Connected program.
Get Connected was a creation of the United Way's Women's Leadership Council as a way to give "high school juniors and seniors an opportunity to visit a workplace, learn about careers in their field of interest and build relationships with employees in the organization." The students who visited Canton Drop Forge were given a tour of the facility and a chance to converse with some of the company's employees so that they may learn more about the forging industry and what it takes to be successful within it.
"We think that the United Way is doing these young men and women a lot of good with the Get Connected program," says Brad Ahbe, Canton Drop Forge's president.  "It was an honor to teach our guests a little bit about the forging industry and to help them make connections with some of our most knowledgeable and skilled employees."
In addition to providing a tour and a chance to question established industry employees, the Get Connected program also offers students the opportunity to conduct follow-up visits with businesses they're interested in learning more about. During those visits, students can receive more information from the professionals they met during the initial tour and deepen relationships that'll serve them well should they choose to go into the industry in question.
By providing these resources, the United Way and companies like Canton Drop Forge hope to use Get Connected to help students decide on a career path that they feel will make the greatest use of their skills and interests. Partially funded by the Ohio Department of Education, the program is just one of the ways in which the United Way assists local youth in attaining the skills and information they need to be successful adults.
"The Get Connected program is really a win for everyone involved," Brad Ahbe continued. "The kids get to learn if forging might be for them, and we get to meet the people that could be pushing our company to new and greater heights in the future. There were some exceptional young men and women at the facility today that I think would make excellent additions to our team."
Canton Drop Forge is a locally-based provider of custom forged parts and drop forgings whose clients are based in industries such as aerospace, construction, and power generation. More information on their company and their forging capabilities can be found by visiting their site or by giving them a call at 330-477-4511.
Those interested in the Get Connected program – or in any of the other resources offered by The United Way of Greater Stark County – you can visit their site, http://www.uwstark.org/, or call them at 330-491-0445, or appear at their office in downtown Canton at 401 Market Avenue North, Suite 300.
REQUEST A QUOTE, TALK TO AN EXPERT