Even the most talented craftsman needs the proper equipment to do his best work. That's why Canton Drop Forge has made a massive investment in the machinery and gear necessary to create the highest-quality forgings. The parts we create are used in everything from planes to power plants, from trains to turbines – that being the case, it's incredibly important that our equipment can create forgings strong enough to fulfill these crucial, high-stress applications. We take pride in the power and precision of our equipment, which is why we've put together this profile on some of its most important components. Clients and enthusiasts alike should know just what goes into the creation of the parts that make so many aspects of modern life possible.
Heat Treatment

If you're uncertain as to what forging actually is, please take a look at this piece to learn more about the process (and the benefits it holds over casting). The creation of a part starts with the heat treatment of a base metal via one of our seven furnaces. Of those seven, five are continuous type furnaces – three of those five possess normalizing, tempering and annealing capabilities, while the other two specialize in the hardening of and drawing of material. The remaining two are batch type furnaces whose normalizing and tempering abilities have been inspected and approved by the National Aerospace and Defense Contractors Accreditation Program (Nadcap). In the past, we've examined the particulars of these heat treatment techniques – that still, however, leaves us with the question of the differences between continuous and batch type furnaces.
Continuous
A continuous furnace, simply put, is one whose conveyor runs at a constant, steady speed. It's up to the technician manning this massive piece of equipment to feed the material at the proper rate to ensure that it receives the correct amount of heat exposure. Furnaces of this type can either be constructed in a straight line or in a horseshoe shape and possess the ability to handle multiple loads at once.
Of our five continuous furnaces, two contain oil and polymer quench tanks. These allow for the controlled cooling of the material, and we specifically make use of oil and polymer in our tanks because we believe that they allow our technicians greater control over the transformation that must occur in this final stage to bring the material to the necessary strength and durability.
Batch
Batch furnaces, on the other hand, can only process one load at a time. The upside is that a batch furnace can be created in a larger variety of shapes (car-bottom, box, pit and bell, to name a few) and can be heated through electricity or through direct or indirect gas-firing. Furthermore, batch furnaces may possess both material handling and a controlled atmosphere, features that allow the technician a great deal of flexibility in the handling of the heated material.
Dies
Once the material is heated, it is then subject to the die sinking process. Though many forging facilities possess the standard dies necessary to create a variety of common parts and components, the die creation capabilities of Canton Drop Forge go a step further. Our four large computer numerical control (CNC) mills and multiple vertical turning lathes allow us to create dies for parts that must be forged to custom, precise detail. This machinery allows us to control the die sinking process from start to finish, eliminating the confusion that can often come from passing a piece of material back and forth between facilities. You've trusted us to create a strong, durable part to your exact specifications, and as such we take it upon ourselves to make sure that the resulting product exceeds your expectations.
Hammers/Presses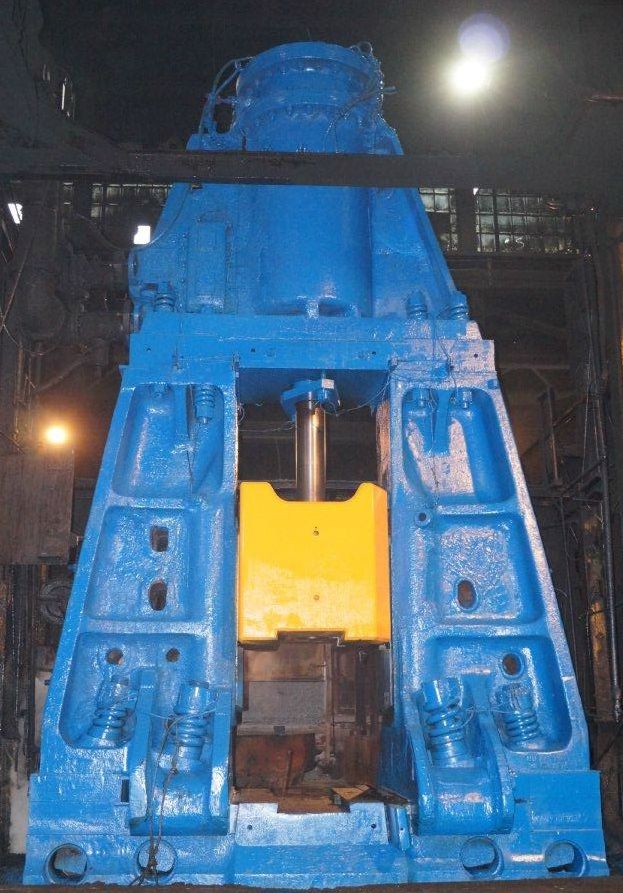 Once the material is in the die, pressure must be applied to ensure that it forms to the recess. That's where our massive hammers and presses come in. Our thirteen hammers can apply anywhere from 3,000 to 35,000 pounds of pressure – that range is necessary not only to fulfill the needs of distinct projects but also those of different metals and alloys, all of which respond to pressure in unique ways. Though we at Canton Drop Forge specialize in closed-die forging, we also recognize that open-die forging is necessary for the completion of certain projects. That's why our 1200 ton hydraulic press is designed both to trim material and assist in the open-die forging process. This range of machinery allows us flexibility both in the creation of parts and in the types of projects we can take on, positioning Canton Drop Forge as the go-to source for manufacturers across a wide variety of industries.   
Conclusion
Plenty of forging facilities possess equipment similar or identical to that listed above. Canton Drop Forge, however, is unique in that our top of the line equipment is manned only by the most skilled and experienced forging technicians that the industry has to offer. That combination makes us singularly equipped to handle even the most difficult and specific forging tasks, to create parts for the most critical situations. We take pride in our position as an industry leader, and we encourage you to get in touch if you have any further questions regarding the capabilities of our equipment and people. No matter the task, we're confident that we can deliver a part that'll stand as your project's strongest and most reliable.
REQUEST A QUOTE, TALK TO AN EXPERT